FLY ONE® - The media system for multifunctional rooms
A media supply system has never been so elegant and flexible. Fly One® is an energysaving, high-performance, LED ceiling light that ensures perfect illumination of the space. When required, Fly One® automatically folds out and can be navigated to any position in three dimensions.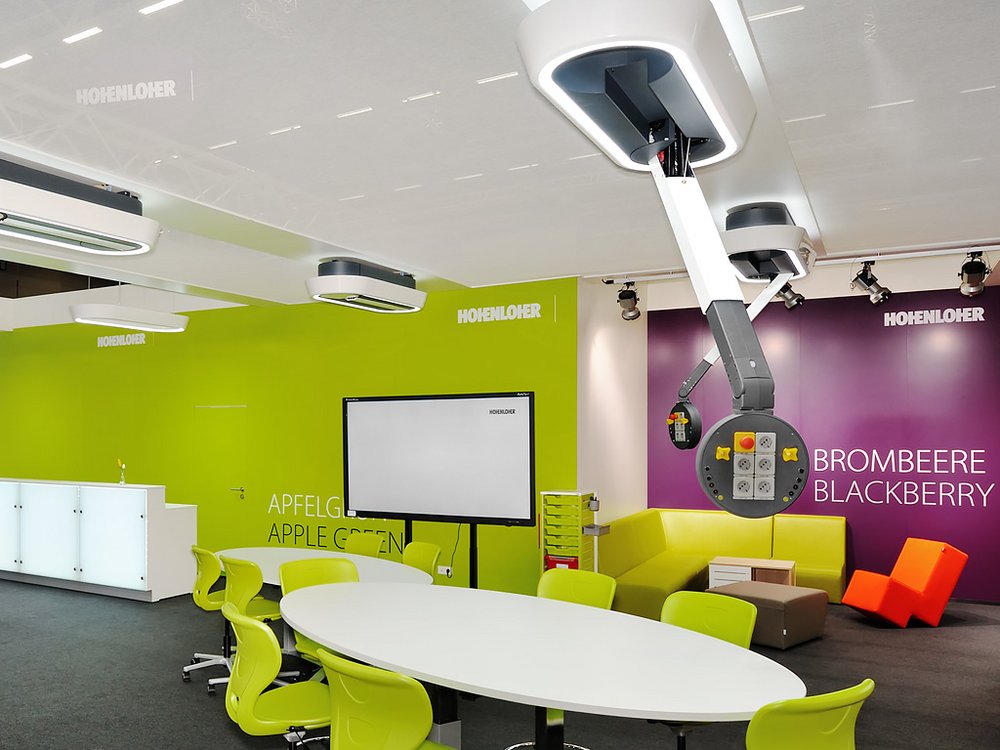 What makes Fly One® special?
4-dimensional flexibility
Fly One® provides media, like electricity, data, gas or compressed air where it is needed in the space – precisely and reliably.
And when it's no longer needed, Fly One® folds together fully automatically and elegantly from any position at the press of a button and is recessed unobtrusively in the ceiling.
Fly One®
Three-dimensional navigation and lockable media supply
Dimmable high-power LED light for optimum workplace lighting
Flexible individual and group control using state-of-the-art bus technology
Ergonomic media supply, thanks to individual height adjustment
Ultra-robust due to flexible bamboo design principle
Short set-up time, thanks to fully automatic extension and retraction
Fly Light®
Even and glare-free lighting of workspaces by 80% direct and 20% indirect light component and a basic oval shape
Dimmable and therefore able to adapt to lighting requirements
Fatigue-free working, thanks to daylight-spectrum LEDs
Efficient use of electrical energy due to an optimum performance factor (PF)
Flexibility due to a range of fixing modes: as a suspended light with wire cables or as a ceiling light with fixing brackets
Multifunctional spaces with Fly One®
Light and Learning
Experience breathtaking design paired with extraordinary light technology. Our Fly Light® increases the power of concentration through daylight spectrum and ensures for the best possible illumination in the room, due to the direct and indirect proportion of light.
Maker Space
With our LED ceiling light Fly Light® you ensure for perfect illumination of the space. For practice-oriented learning and experimenting, use Fly One® - at the push of a button it folds out and flexibly provides electricity, Internet, multimedia and much more in the room.
German Innovation Award
This year the German Design Council presented Hohenloher with the "GERMAN INNOVATION AWARD 2018" for its "Fly One®" high-tech innovation. The high-calibre judging panel thereby elevated the ceiling installation into the company of some of the most successful German innovations in the "building & elements" category. Its level of innovation, user benefits and cost-effectiveness were the key criteria in the presentation of the award.
For Multifunctional Space Utilization
Just discover more details about our Fly One® in our current Fly One® brochure.
School, campus or business – adjusted room concepts for every setting
WE ARE COMMITTED TO ADVANCE EDUCATION WORLDWIDE