MAKERSPACE - OUR ROOM CONCEPT FOR RESEARCHERS AND DISCOVERERS
The Hohenloher Makerspace is the ideal place for creative trial and error or collaborative experimentation. In our digital world, it enables innovative education by providing the ideal platform for the development of new ideas and approaches. Curious? Then immerse yourself in a whole new way of learning.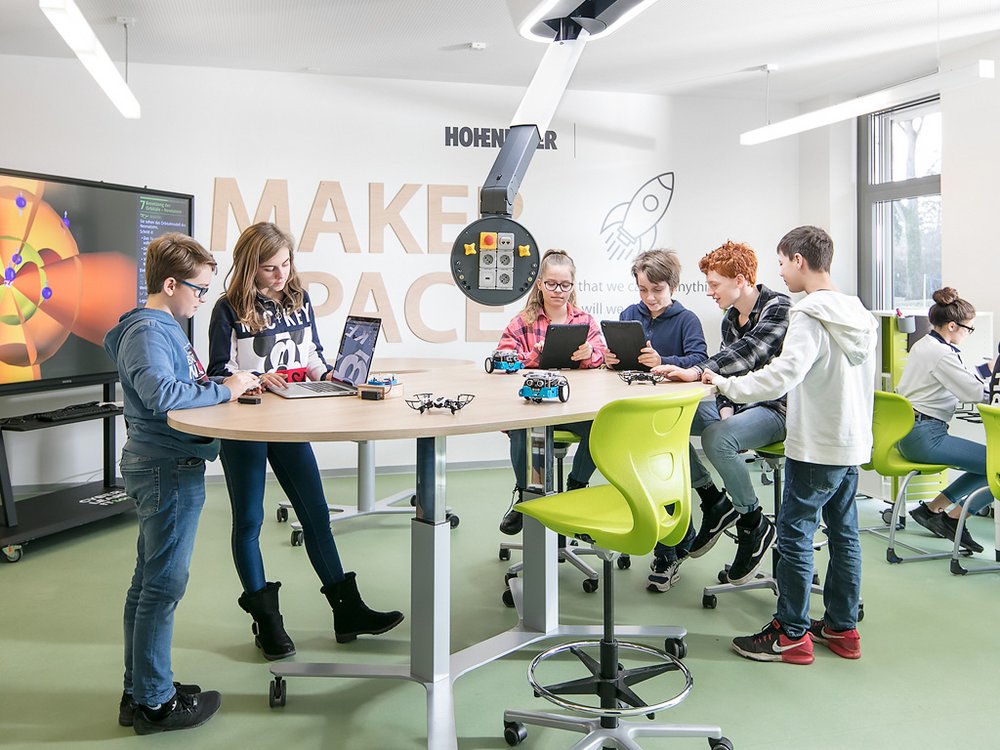 What makes MAKERSPACE special?
The room of 1,000 possibilities
This makes hearts beat faster: the combination of flexible media supply and mobile equipment enables a wide variety of settings in a flash. Just a film studio, now a creative workshop - welcome to the Hohenloher Makerspace.
Promote 21st Century Skills
Phenomenon-based experimentation in the Hohenloher Makerspace opens up completely new perspectives. In a playful way, it strengthens communication, collaboration, critical thinking and creativity - "4C learning". It also promotes important character traits such as curiosity and viability.
One day with the Makerspace
3D Modeling & Printing
This is how ideas become reality: develop first sketches on paper and build your prototype from crafting material. Once you have created your model virtually in the 3D program, you can easily produce it via the 3D printer.
Video Production
Become a moderator yourself. Stand in front of the camera and make explanatory videos about specialized topics in which you are familiar. Your camera crew will film you in front of a greenwall and can set you in front of every conceivable backdrop in the world.
Video Audio Editing
This will be a real cinematic experience: cut the film sequences together optimally and combine them with visual effects. Now you just have to deposit the music of the school orchestra and your first blockbuster is ready.
Coding, Robotics & Bionics
Let robots dance to your nose. Easily create your own programming on the iPad and transfer it to robots, drones and much more. As soon as the first obstacle comes you can see live, if you did everything right while programming.
Virtual & Augmented Reality
This is pure fascination: dive close up into otherwise invisible processes and experiences such as the photosynthesis of plants or other chemical processes. With controller and VR glasses, you even take the experiment into your own hands.
Design Thinking
Great ideas are often created by interdisciplinary teams in a creative environment. Design Thinking is a wonderful way to playfully discover new approaches and innovative solutions in six iterative steps.
Light & media
The ceiling supply system Fly One® combines a flexible media supply of workplaces with the optimal illumination of the entire room. Awarded the German Innovation Award 2018. DISCOVER MORE
Clear & ordered
Depending on the subject, simply equip the learning cabinets with the appropriate learning boxes and drive to the workstations. When not in use, simply roll it back into the garage cabinets and stow it safely.
Mobile & flexible
So that the Makerspace can be changed quickly, everything is mobile here: Comfort HV team table, Sediamo® Swing Ligno chairs, FlexLearn cabinet 3x1, FlexLearn cabinet 3x3, mobile boards.
Robust & agile
Our mobile extension table with durable multiplex board is ideal for true inventors. The optional underbody offers plenty of space for equipment or additional equipment.
Ergonomic & height adjustable
Communication is very important here: our Comfort HV team table and the Sediamo® Cross chairs can be adjusted in height for sitting or standing meetings.
Planning examples
The Hohenloher Makerspace can be integrated almost anywhere - whether as a stand-alone room or as an integral part, it is suitable for schools, libraries, offices, laboratories or industry. Already an area of ​​4x5 meters is sufficient for an installation. Below you will find planning examples with different positioning variants, which show how flexible and different the respective rooms can be used.
Makerspace as STEM classroom
Planning example | Makerspace as STEM classroom (7.00 x 9.50 m = 66.50 square meters I 32 pupils + 1 teacher)
Setting: 4x Ceiling Supply System Fly One®, 1x Connection cell, 10x Genius Extension Table 150x75 cm, 1x Genius Extension Table 60x75 cm, 1x Comfort HV table 130x84 cm, 33x Sediamo® Cross G chair with foot ring, 2x garage cabinet, 3x cabinet, 2x FlexLearn cabinet 3x3, 6x FlexLearn cabinet 3x1, 1x Mobile display, 3x Mobile display panel, 1x FlexLearn wall
Makerspace as learning room
Planning example | Makerspace as learning room (6.50 x 9.50 m = 61.75 m² I 28 pupils + 1 teacher)
Setting: 1x Ceiling supply system Fly One®, 3x ceiling light Fly Light®, 1x Comfort HV team table 220x120 cm, 1x Comfort HV table 130x84 cm, 20x Combo 4 table 70x70 cm, 20x Sediamo® Swing chair, 9x Sediamo® Cross G chair with footring, 10x FlexLearn cabinet 3x2, 1x FlexLearn cabinet 3x3, 2x FlexLearn cabinet 3x1, 1x Mobile display, 3x Mobile board, 1x FlexLearn wall
Makerspace at the faculty room
Planning example | Makerspace at the faculty room (10.00 x 13.00 m = 130.00 square meters I 28 teachers)
Setting: 1x Ceiling supply system Fly One®, 8x Ceiling light Fly Light®, 1x Comfort HV team table 220x120 cm, 3x Comfort HV table 130x84 cm, 18x Combo 4 table 150x75 cm, 20x Jet office swivel chair, 17x Sediamo® Cross G chair with footring, 2x Luis highback sofa, 1x FlexLearn cabinet 1x2, 3x FlexLearn cabinet 3x3, 12x FlexLearn cabinet 3x1, 4x Garage cabinet, 8x pigeon hole cabinet, 1x sink, 8x cabinet, 1x Mobile display, 3x Mobile board, 1x Learning wall
Makerspace in the library
Planning example | Makerspace in the library (5.00 x 13.00 m = 65.00 sqm I 28 students + 1 coach)
Setting: 3x Ceiling supply system Fly One®, 1x Comfort HV team table 220x120 cm, 6x Genius extension table 150x75 cm, 1x Genius extension table 60x75 cm, 24x Sediamo® Cross G chair with footring, 1x Logo 2-seater, 2x Logo 1-seater, 1x FlexLearn cabinet 1x2, 2x FlexLearn cabinet 3x3, 6x FlexLearn cabinet 3x1, 2x Garage cabinet, 2x cabinet, 1x Mobile display, 3x Mobile board, 1x FlexLearn wall
Wir engagieren uns für Bildung Weltweit